For years, Elyse Rubeck '10 and Sean Coughlin '08 had regretted never spending a semester at Emerson's beloved Kasteel Well. So, in 2019, when the College offered an alumni trip to the Castle, they jumped at the opportunity.
"It was a great way to feel reconnected to Emerson and experience this really important part of the school firsthand, and see the global reach of the school," Rubeck said.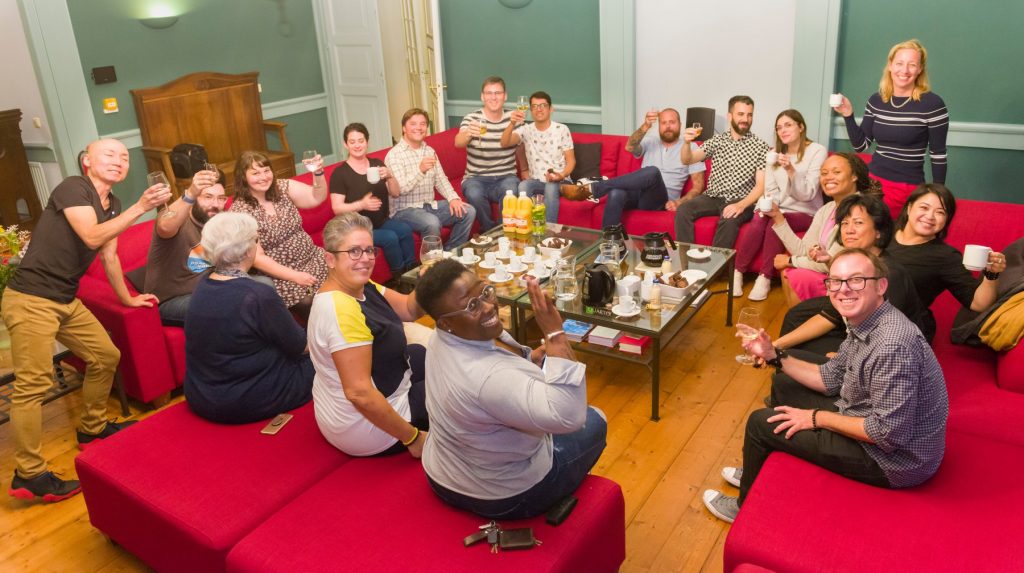 Alumni and friends now have the opportunity for another such trip to the College's 14th-century castle in the Netherlands. The Emerson College Alumni Association recently announced Summer in Holland: The Emerson Castle Trip, August 26–30, 2023, for all Emersonians: Castle alumni, non-Castle alumni, parents, friends, and family. For many, this trip is an opportunity to revisit old stomping grounds, sharing those memories formed long ago with loved ones. For others, this is an opportunity to enjoy the village of Well for the first time, forging new relationships with each other, the nearby landscape, and the College.
Daniel Cox '93 attended the alumni trip in Summer 2019—he and his husband made it the highlight of a larger visit to Europe—and said he was grateful for the opportunity to relive his experiences as an undergrad. Cox had the unusual experience of attending the Castle program twice during his time at Emer- son: one semester as a student and again as a student RA.
Cox said he and his husband loved the 2019 trip so much, they're already planning to go again with Emerson in 2023. He said he sees it not only as a chance to explore familiar places, but also as an opportunity to immerse himself in the culture of Well in new and exciting ways. Building up existing and new relationships allows Cox to appreciate the Castle in ways that enhance his connection to the Castle.
"Emersonians have that opportunity to bond really quickly and really intensely. It's part of being an Emersonian, and that's something I'm looking forward to going back next time. It'll be a new group of people…and there will also be new encounters with the people who are already there, who take care of the castle— Castle keepers as we call them," he said.
Likewise, Jan Hartman, P '05, who attended the 2019 trip with her daughter Chrissy Hartman '05 and son-in-law Crit Obara, said the Castle staff were gracious and engaging. "They bring the property to life and make the program an absolutely exceptional experience."
Rubeck and Coughlin turned the 2019 Castle trip into an opportunity to have a mini- reunion with another Emersonian, who joined them at Kasteel Well. Rubeck said she enjoyed connecting with other alumni from different years, swapping stories of undergrad experiences and forming new relationships with Emersonians, and especially loved the canal tour of Amsterdam.
The 2023 itinerary will offer a variety of experiences for all participants, ranging from a private tour of Rijksmuseum, led by Kasteel art experts, to a wine reception followed by dinner at the main Castle. See emerson.edu/alumni/ events/emerson-castle-trip for more information about the five-day excursion and to register. 
—Allison Armijo '24
This trip is for you! (Yes, you.) Summer in Holland is open to all Emersonians: alumni, parents, friends, and family. Register today!
https://www.emerson.edu/alumni/events/emerson-castle-trip/kasteel-well-interest-form