Cheryl Buchanan, MFA '15, and a number of Emersonians are expanding access to the literary arts for those isolated by the challenges of racism, addiction recovery, trauma, poverty, disability, and mental illness.
Photo collage: Photos courtesy of In Their Shoes: Unheard Stories of Reentry and Recovery 
When Cheryl Buchanan, MFA '15, decided she wanted to do a directed study in her MFA program about bringing writing to unconventional spaces, she was not expecting to turn it into a nonprofit organization.
Buchanan's initial idea was to begin a writing workshop for cancer survivors, but her proposal was rejected by the administration of one of Boston's renowned cancer treatment facilities—she was told her idea would be better suited for a community health center. So she took her proposal to a day shelter right across the street from Emerson, St. Francis House.
"I told them that I had worked with abuse survivors for 10 years," said Buchanan, who had previously worked as a lawyer representing survivors of childhood sexual trauma in the largest group of Catholic church clergy abuse cases in the country. "I told them about my experience with mental health and addiction and criminal history. They said, 'You're going to recognize some of the folks here.' And finally they said they would let me give this a shot."
And so it began.
That workshop eventually expanded to other centers around Boston and became Writers Without Margins, a nonprofit organization that brings free literature and writing workshops to unconventional and untapped spaces, such as day shelters, community health centers, youth service facilities, prison reentry programs, and addiction recovery groups.
By offering these programs, Writers Without Margins is expanding access to the literary arts for communities in Boston that are often unheard and under-resourced.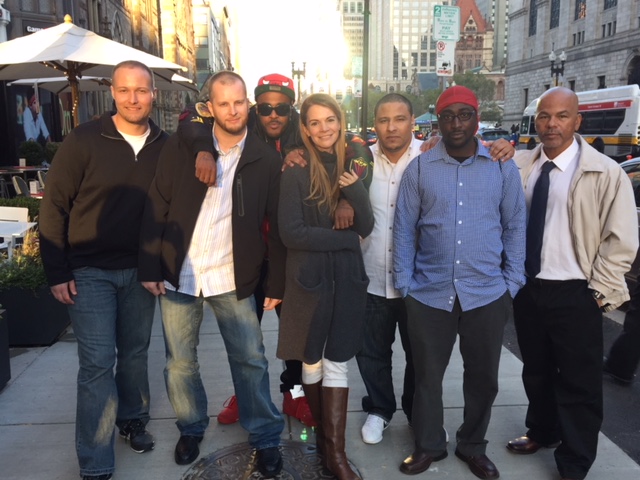 The Arts and Advocacy
Buchanan has always been interested in the connection between the arts and advocacy, as well as healing through self-expression. Working as an attorney on the Catholic church sex abuse scandal case gave Buchanan a view of the importance of representation, advocacy, storytelling, silence-breaking, and healing, perhaps more than most.
"I recognized over and over how beneficial it was for someone to be able to tell their story for the first time. I saw it in such a profound way in my legal career. That stayed with me," she said.
Then, during her MFA writing workshops at Emerson, Buchanan realized that, for those who had gone through a traumatic experience, writing could be both empowering and cathartic. She also began to wonder why such workshops were only available to those with access to higher education. She felt acutely that invisible barrier. "That bothered me," she said, "but it bothered me in a way that was agitating and exciting."
Emerson Connections
After starting the workshop at St. Francis House, Buchanan and fellow MFA candidate Brionne "Breezy" Janae, MFA '15, began running a weekly workshop at the Roxbury (formerly Dudley) Branch of the Boston Public Library. Requests for writing workshops from other community health centers began flooding in, and it was hard to keep up.
"I needed other professors and students to be able to expand, and that's how the nonprofit was born," Buchanan said. She enlisted the help of fellow students and professors to become program facilitators and bring workshops to additional centers around Boston.
"Working with Writers Without Margins was one of the highlights of my time at Emerson," said facilitator Evan Cutts '17. "Cheryl really influenced my philosophy on writing and community building. I take those lessons with me everywhere I go."
"To see something that I wrote in a book is a beautiful thing and it makes me feel like I'm really on my way."

Marcel, a writer in the program
A Wide Reach
Today, Writers Without Margins holds writing workshops in several community centers in and around Boston. While a few of the programs have been put on hold or are operating virtually due to the pandemic, the organization continues to thrive.
"Cheryl is that rare creative artist who also knows how to organize and lead. Whereas many poets simply want to show up and read, I've seen her do everything from raise funds for an event to set up the chairs before the audience arrives," said Jabari Asim, professor of Writing, Literature and Publishing (WLP) and an advisor to the organization. "Writers Without Margins benefits not just the writers she has welcomed into its orbit, but also Boston's entire literary community."
In 2018, the organization teamed up with Wahl St. Productions to create In Their Shoes: Unheard Stories of Reentry and Recovery, a documentary that follows the journey of four men who were previously incarcerated whose lives intersect at a Writers Without Margins workshop. The impact is clear. One of those men, Marcel, said: "To see something that I wrote in a book is a beautiful thing and it makes me feel like I'm really on my way."
Writers Without Margins has published several literary journals and hosts readings so the authors can share their work. "The poems printed in the journal go well beyond having a literary impact," said WLP Professor Emeritus John Skoyles. "Each volume gives voice to writers and poets who were previously unheard. Their recounting of their experiences, whether autobiographical or fictive, are always moving and often powerfully so."
A New Generation of Emersonians
Writers Without Margins continues to foster connections with current Emerson students. Recently, Caroline Bond '23 contacted Buchanan to see how Writers Without Margins might be able to work with Quit Like a Lion, her new student organization for students in recovery at Emerson.
"When a student has an idea that overlaps or aligns with our mission, it makes me so excited," said Buchanan. "That makes me believe in the work because it brings together folks who would not have otherwise found each other, and relationships are built through the stories and the writing and the humanity. And that is the best thing that could possibly happen."
---
Photo courtesy of In Their Shoes: Unheard Stories of Reentry and Recovery