And it's a huge success.
Illustrations by Martin O'Neill
In the summer and fall of 2020, as the world marked half a year in the grips of a pandemic, and as most college students were trying to navigate their lives around COVID, Valeria Ocando '22 and Victoria Garcia '21 were busy launching their own business.
That business, Vival Garco, is an art and fashion brand created to promote Latin American artists and culture. Ocando and Garcia met in the Business of Creative Enterprises (BCE) program, and wanted to combine their talents with the skills they acquired through both the program and Emerson Launch to build something tangible that would help restore commerce to their native country of Venezuela.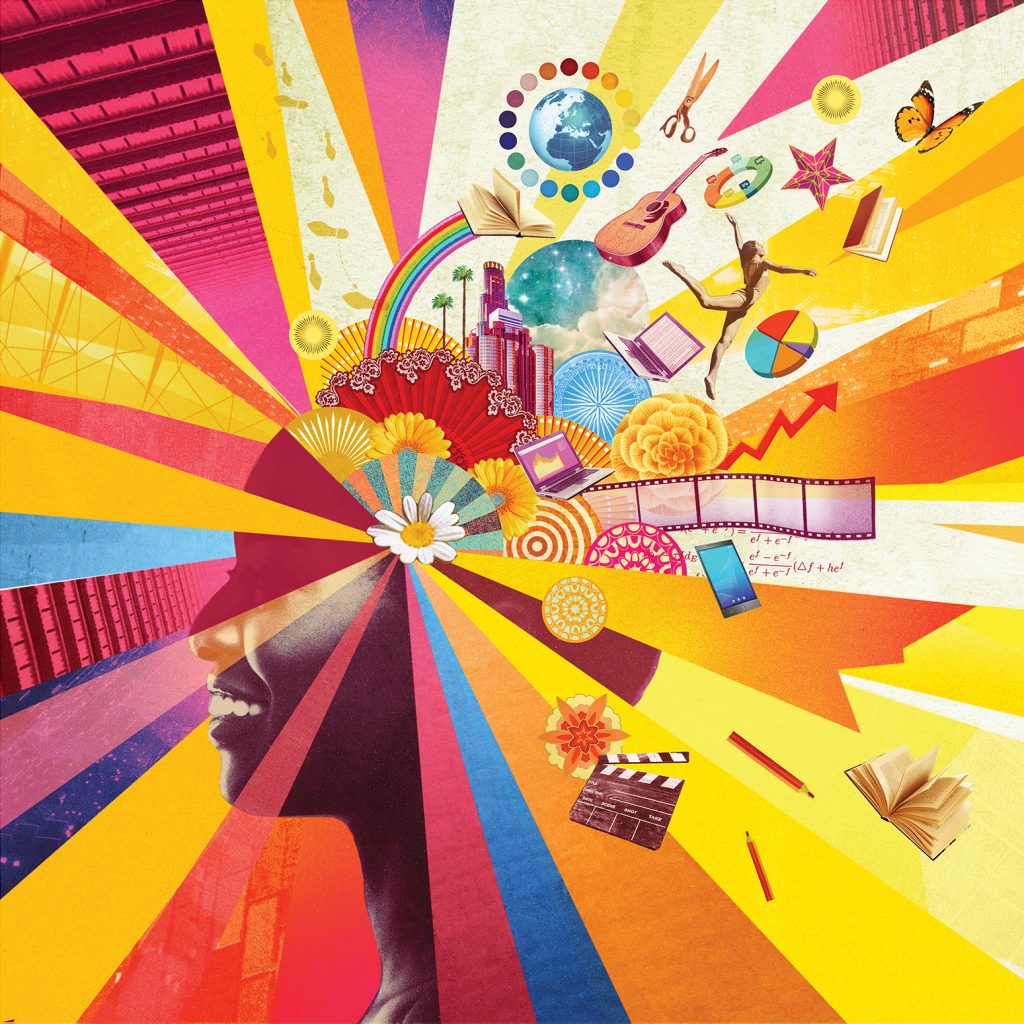 "It is very successful and I'm very proud of being part of it," said Ocando, who has since left Vival Garco on good terms. Not long after launching, she said, "We sold 100 hoodies, frames, [held] small events, photo shoots, launched a website. We even sell things internationally. I sent hoodies to France and Spain; it was so [wild]!"
Ocando and Garcia are two of the more than 300 students who have enrolled in the innovative, interdisciplinary, and quintessentially Emersonian BCE program since its Fall 2016 inception. Those who have graduated from the program, though only one or two years out, are getting noticed at record labels, theater companies, talent agencies, nonprofits, and even private equity firms.
Those freshly minted alumni are entering the workforce poised for success in a sector that is both fundamental to quality of life and critical to the overall GDP of nations around the world. In the US alone, the creative economy "employ[s] 8.8 million workers and generate[s] over $1.7 trillion in sales annually, which represents 4% of annual sales of goods and services in the United States," the Brookings Institution wrote in an August 2020 report on the impact of COVID-19 on the industry. In recognition of the role arts and entertainment play in stimulating innovation and diversifying economies, the United Nations declared 2021 the "International Year of Creative Economy for Sustainable Development."
Now a BCE senior, Ocando interned this past summer at Cisneros Media, a Miami-based Spanish-language entertainment company. This fall, she's at Emerson Los Angeles and working at Highland Film Group as a marketing intern.
Whenever she's interviewed for a position or networked with people, and the subject of her major comes up, it's an immediate conversation starter, Ocando said. Everyone wants to know what the program is about, what the "business of creative enterprises" is.
"It truly opens doors, because it's very new," she said. "The more unique you are, the more competitive you are. In the creative industries, it's very competitive, so you need to stand out somehow.
"[Majoring in BCE] has been one of the best decisions of my life," Ocando said.
What Makes It Different?
The BCE program, one of the first of its kind in the nation, prepares students for leadership roles across the creative economy: film/TV, music, theater, publishing, fashion, art, architecture, new media, gaming, etc. Crucially, it also prepares them for success in industries they can't yet begin to fathom.
"The BCE program plays beautifully into all of Emerson's major strengths, leveraging our decades of expertise in the creative arts, as well as in marketing and communication," said Raul Reis, dean of the School of Communication. "It's a unique, innovative, and exciting program that brings together the best the College has to offer, in terms of faculty expertise and long-held positions in the entertainment industry and the creative community."
The curriculum naturally includes courses in traditional business disciplines: Finance and Accounting, Strategic Management and Analytical Decision Making. But it also trains students in some of the "soft" skills and sensibilities necessary to succeed in industries that live or die by taste-making, trendsetting, and creative partnerships.
Undergraduates complete a seminar in Creative Collaboration, as well as courses in Developing an Aesthetic Sensibility Through Creative and Critical Thinking and Cultural Economics. Electives are offered in multiple tracks (Communication, Performing Arts, Visual and Media Arts, and Publishing), allowing students to focus on a particular field within the creative economy. All students complete a Senior Residency, which contains elements of a capstone project with the real-world experience of an internship.
Below: Wes Jackson, BCE director and Senior Executive-in-Residence | Photo by Derek Palmer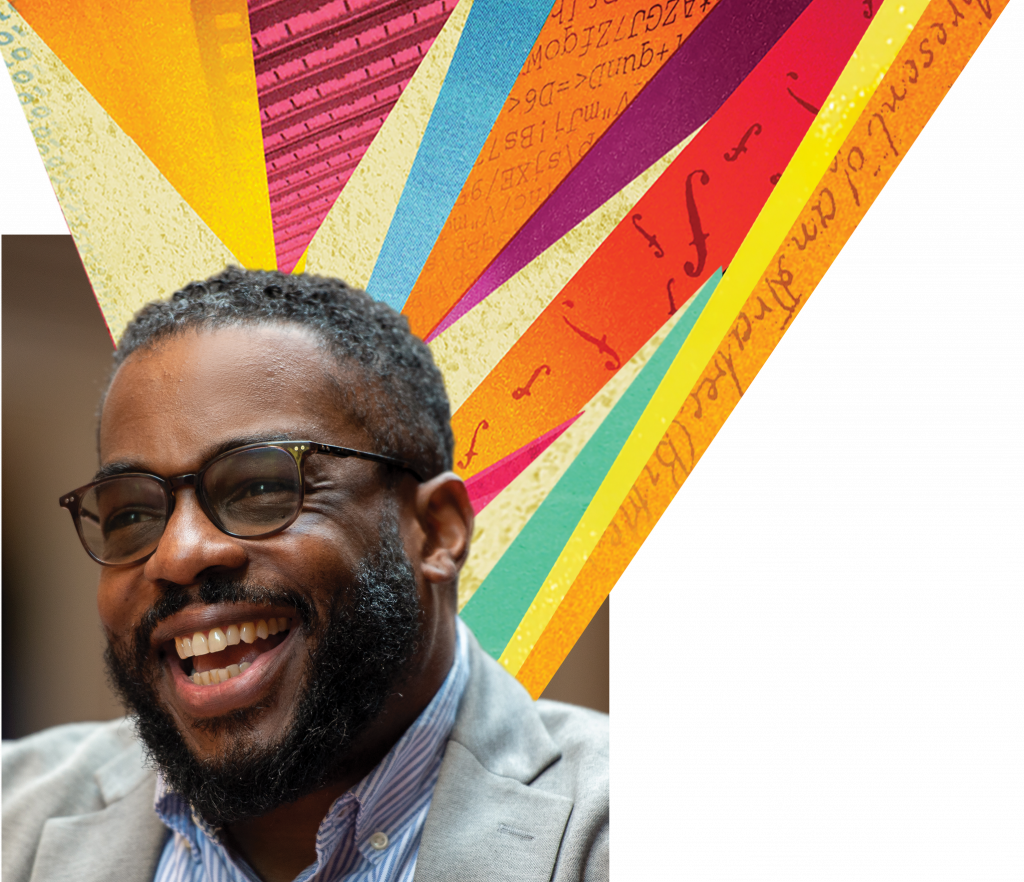 Business of Creative Enterprises Director and Senior Executive-in-Residence Wes Jackson says the primary difference between a BCE student and a traditional business major is one of perspective. BCE students look at profit and loss, they analyze demographics and pore over the charts like any future executive would, but they do it, first and foremost, through an "artistic lens."
"A lot of our students are artists, but even for those who are not traditional artists, we encourage them to look at the creative industries from that perspective…as the creative who wants to get the [artistic] vision across," said Jackson, who came to Emerson in 2018 with over two decades of experience promoting Hip-Hop artists, producing concerts, and founding the Brooklyn Hip-Hop Festival. "It's almost like an inside out rather than an outside in approach." That "artistic lens" tends to bring two invaluable skills into sharper focus.
One is the ability to solve problems. The creative drive tends to lead people in unusual or unfamiliar directions.
"Artists and creatives are the greatest problem solvers," Jackson said. "If I want to put strings in my Hip-Hop song, I know I have to go out and find the right person, negotiate, collaborate…and then I bring this almost foreign object into my project.
"That kind of thinking, having creative ways of solving problems…we start there so we can throw our students into uncomfortable situations."
Creatives also need an uncanny ability to see into the future. Jeff Bezos had the concept for Amazon Marketplace, an e-commerce platform that allows third-party sellers to offer merchandise on Amazon, back when he was just selling books on the internet, Jackson pointed out. In the 1970s and '80s, George Lucas wasn't just writing one Star Wars movie at a time, waiting to see how each did at the box office. He had envisioned a whole universe, with spinoffs and video games and merchandise stretching to the present day and The Mandalorian, he said.
"[Creatives are] proactive because there are no rules. I can make any story I want, and I'm rewarded for forward-thinking," Jackson said. "We spend a lot of time reinforcing that lesson."
If You Build It, Will They Come?
The Business of Creative Enterprises major was itself a creative enterprise.
In 2014, then Provost Michaele Whelan approached the deans and Lu Ann Reeb, senior executive-in-residence and director of the Emerson Experience in Entrepreneurship (E3) minor, and asked them to explore the idea of creating a business major for the College.
"So when you say that out loud at Emerson in 2014, people kind of do this," Reeb said, crinkling her eyes and cocking her head like she had just heard something truly perplexing.
They assembled a group of faculty members representing all departments and approached it like any start-up, a strategy Reeb knew well from her experience founding media companies. The first question they asked was what a business major would look like at a college focused on communication, the arts, and liberal arts. There were "many spirited conversations" about what that could be, Reeb said.
"But if you really think about it, the business of theater, the business of film, the business of television, the business of advertising—they're huge professional sectors of our economy, and we've had many, many Emerson alums who have done well in those categories, so we wanted to talk to them," Reeb said.
Below: Valeria Ocando '22 | Photo by Justin Schmalholz '22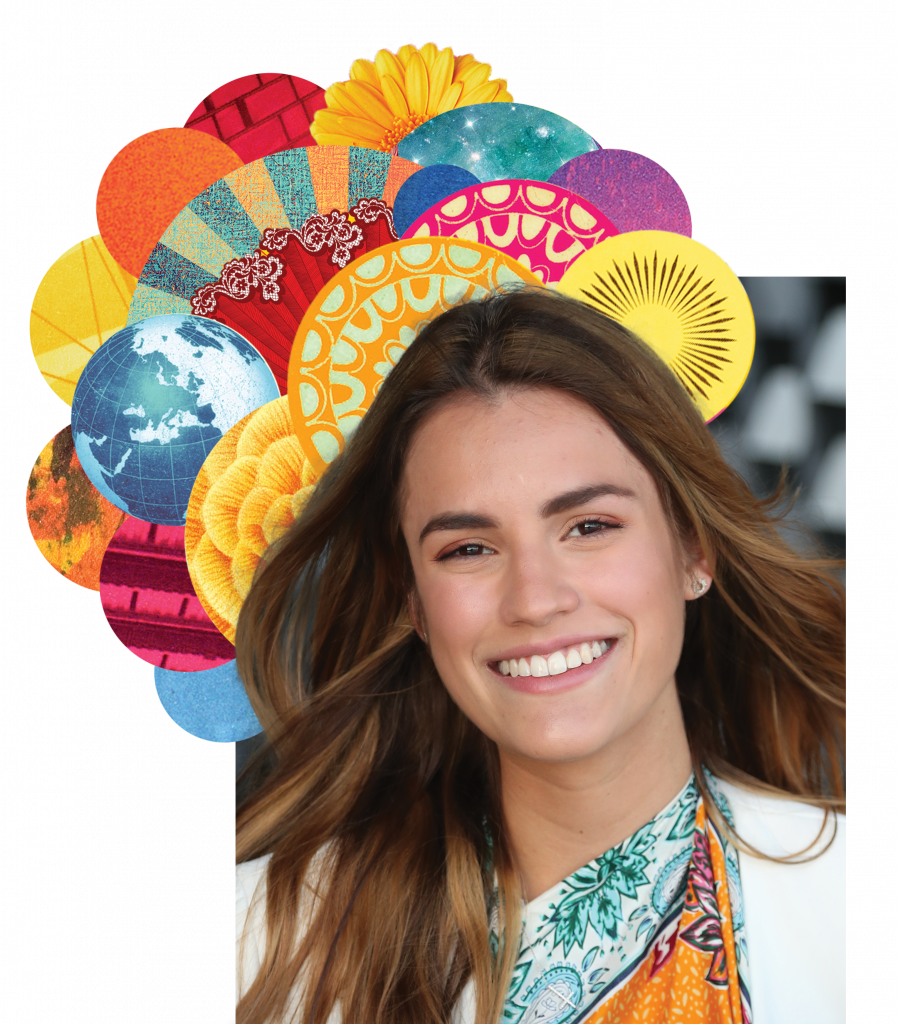 They asked alumni what they thought a business major at Emerson should look like, and what were some things they wished they had learned while they were undergrads. They got answers like entrepreneurial thinking, finance, pricing, and partnerships.
The group then began to imagine what kind of student would be attracted to a business major at Emerson.
"We began to think about each discipline," Reeb said. "What about the student who loves the theater but doesn't want to act? What about the student who wants to make movies, but not literally make the movies? How about the kid who is committed to quality journalism but isn't interested in reporting?
"The value proposition of the BCE major came to be, and still is, [for] that student who doesn't necessarily want to be the front-facing part of a profession, but wants to be a manager or operations person, or change-maker," Reeb said.
Curriculum development was an iterative process that used design thinking to create courses from nearly every department at the College (although the major itself was and is housed under Marketing Communication).
When the program launched in 2016, the goal was to enroll 20–25 students in the first cohort. That first year, the program received more than 200 applications. Forty-three students enrolled.
"As a business person, that was so reassuring, because it validated that we hit a market that exists," Reeb said.
And it's only been growing. More than 600 prospective students applied for a spot in Fall 2021, of whom 70 enrolled. Nine transferred in from outside the major. The program has been so successful, in fact, that the College is preparing to offer a graduate program in Fall 2022.
"When you put a diverse group together, you get diverse results. When you put women and people of color in positions of making decisions you get wider representation," Jackson said. "We talk about it, we live it, and we execute it."

Wes Jackson
BCE is also attracting a more diverse student body than the average Emerson program, with an average of 32 percent of students identifying as BIPOC, versus 25 percent for the College at-large, and 13 percent international students (versus 12 percent College-wide).
Last year, Jackson and a group of students, including Ocando, organized the first Future of the Creative Industry Conference, a daylong virtual symposium featuring artists, producers, and entrepreneurs, headlined by Bobbi Brown '79, entrepreneur, makeup artist, and founder of Jones Road Beauty. (The second annual two-day conference will be held January 29 in Boston and February 5 in Los Angeles, with speakers yet to be announced.)
When Jackson looked at the final lineup of speakers last year, he was pleasantly surprised to see that all were either people of color or women, or both.
"When you put a diverse group together, you get diverse results. When you put women and people of color in positions of making decisions you get wider representation," Jackson said. "We talk about it, we live it, and we execute it."
Jackson said the only enrollment number he's not satisfied with is that of Black students, a number that could be markedly improved by raising more money for scholarships.
"So that brilliant brother or sister over there who doesn't have $50K a year to drop, I can say 'Don't worry about it, just come over to our program.' We have to do better, individually and collectively, to do that," Jackson said.
Who Are They?
Below: Mel Novotny '22 | Photo by Derek Palmer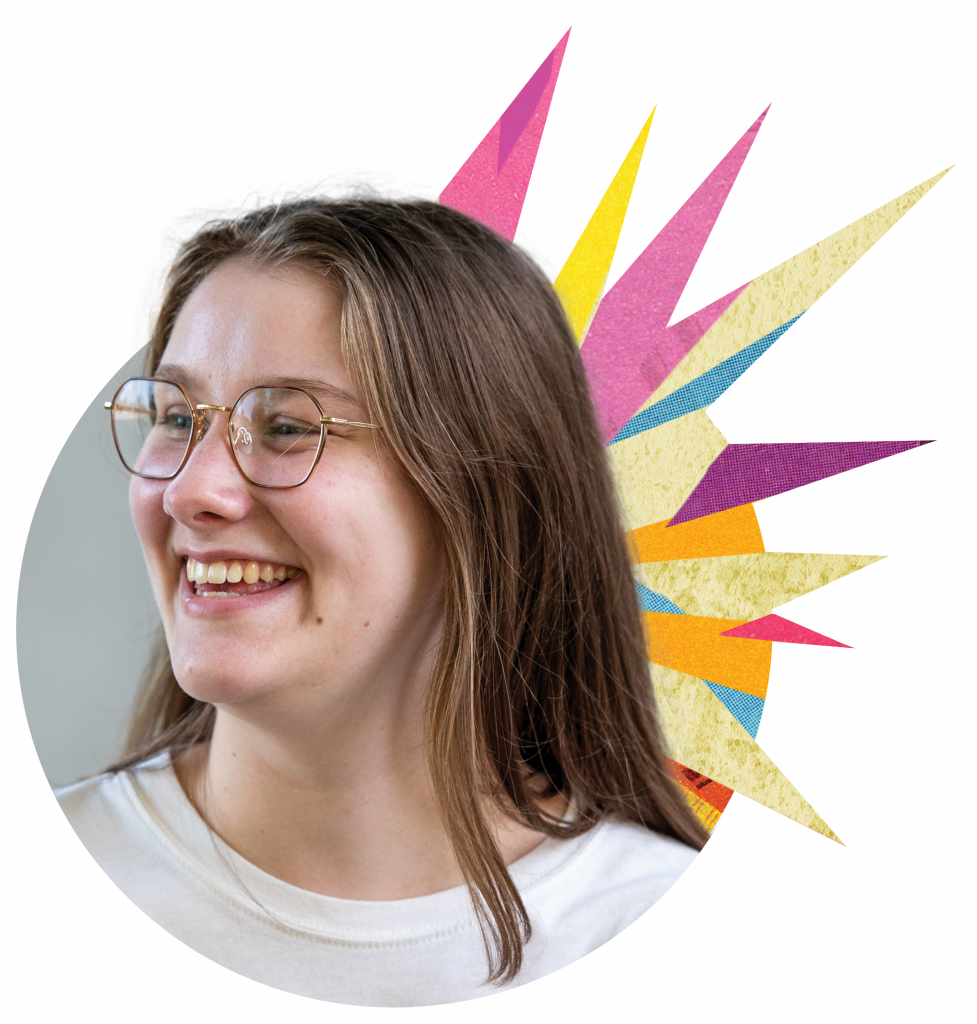 Mel Novotny '22 is, in many ways, the kind of student that the program's designers had in mind when they created BCE.
Novotny is interested in filmmaking, but she applied to BCE, rather than the more traditional Visual and Media Arts programs, because she knew she didn't want to pick up a camera or write a screenplay.
"I'm a lot more interested in producing," Novotny said. "More of the decision-making rather than the creative aspects."
Two years into the program, Novotny said she's still focused on film, but she now has a wide range of new perspectives that she can incorporate into her ambitions.
Another type of BCE student is the practitioner—the music­ian, the actor, the writer—who gets burnt out going on auditions or decides that making a living as a trombonist is too tenuous, Jackson said.
The third category is what Jackson calls the "undecideds," the students who are into many different creative pursuits but don't know which one to choose.
Below right: Alejandro Garcia Urencio '23 | Photo by Derek Palmer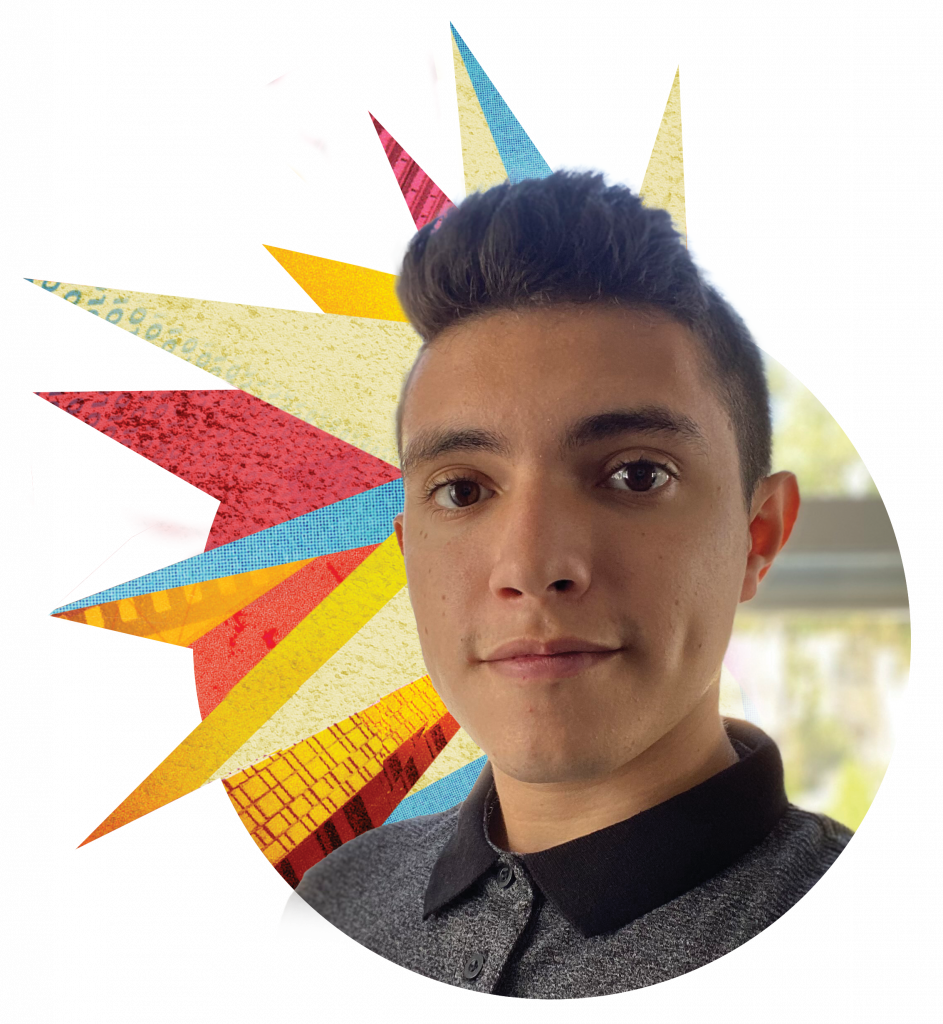 That was Alejandro Garcia Urencio '23. Before coming to Emerson, he studied industrial engineering for a year in Puerto Rico, where he went to high school.
"I didn't exactly know what industry or career path I was going to take," he said. "But the moment I saw the BCE program, I had a lightbulb moment."
Garcia Urencio said being a BCE major has opened his eyes to what's possible and has showed him the creative side of various industries.
Jackson pointed out that some of the most influential brands of the past 40 years have been the result of mashing up different disciplines: music + film = MTV; technology + music = Spotify; Hip-Hop + theater + US history = Hamilton.
Where Are They Now?
Two BCE cohorts have graduated from the program and entered the workforce, though they've all done so under the specter of a global pandemic. Jackson said they've gone to work for any number of organizations: record labels, theater companies, various nonprofits. The first class had a sizeable number of graduates go to major talent agencies, he said.
Jess Braunstein '20 is one of them.
Her first concert, at age 6, was a Bruce Springsteen show (as befits a Jersey native) and she grew up going into New York City, and later, Boston, to catch bands.
"I would follow them over the years—seeing how their fan bases would grow, their rooms would grow, general knowledge of them would grow. I was always interested in being part of a team that helps artists get to that point in their careers," Braunstein said.
In the BCE program, she found a mentor in Jackson, who could share his experiences working with Hip-Hop artists, as well as a supportive and collaborative cohort that helped her land, first, an internship with Live Nation while at Emerson Los Angeles, followed by a job as a music touring assistant with United Talent Agency.
"I think at BCE there was a really big culture of collaboration and communication within the cohort, and also with the professors," she said. "That's definitely followed through post-graduation."
Creativity Can Be Anywhere
Jenna Dewji '21 transferred into the BCE program from Visual and Media Arts. When a 48-hour film festival led to a side hustle with her roommates, Dewji decided she was much more interested in entrepreneurship than she was in producing films.
It was in Senior Executive-in-Residence Stanley Miller's classes—Finance & Accounting and Strategic Management—that Dewji discovered she wanted to work in what some may consider a very "un-Emerson" profession: investment banking.
Dewji works at the financial services company Baird as an investment banking analyst on the consumer team. She said that everything she learned in BCE (and on Emerson's Speech and Debate team) prepared her for the role, including pitching, collaborating, and most important, the art of storytelling. Dewji tells the story of companies coming up for sale.
"While I was in training, a managing director told our incoming class, 'The story comes first, the intellectual comes second,' and that's BCE in a nutshell," she said.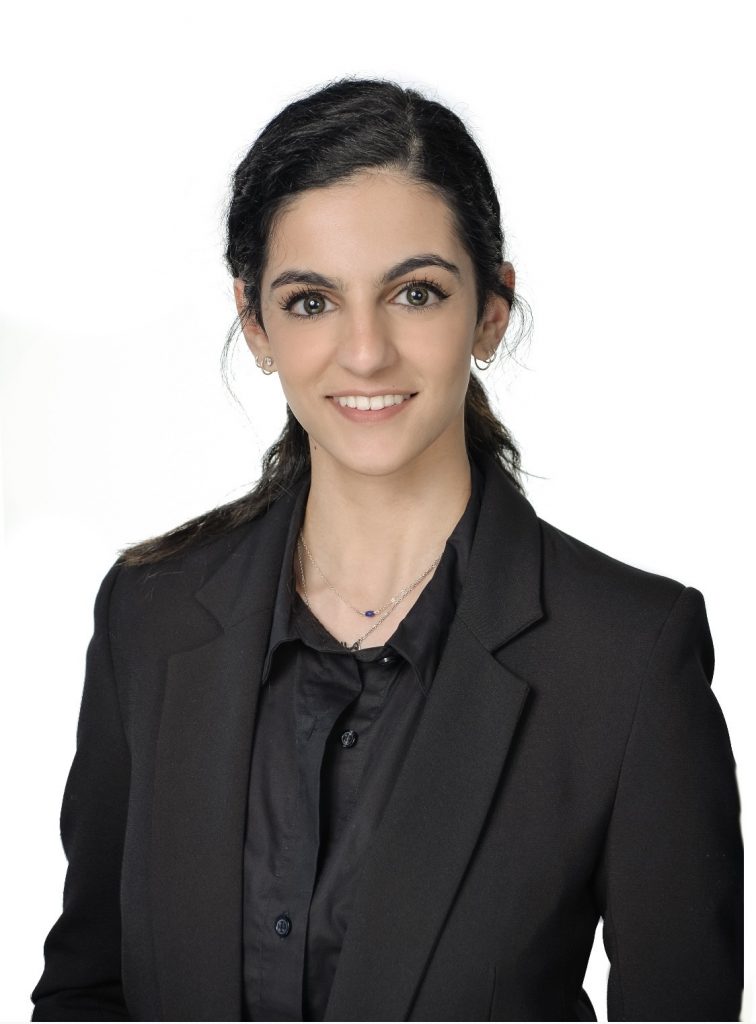 Taking the Guesswork Out
Tara Sandler '84 is partner and executive producer of LA-based Pie Town Productions, the company behind HGTV hits House Hunters and Flip or Flop, their numerous spinoffs, and a bevy of other hit reality shows since 1995. She majored in Broadcast Journalism at Emerson, but landed in TV production after college and learned the business as she went along. And she wasn't alone.
" Nobody goes into television knowing the business side of things. I worked my way up on the logistical side of production, and by doing that, I at least gained some knowledge of how to run a business," said Sandler, who ran two businesses before starting Pie Town with her wife, Jennifer Davidson. "I never took an accounting class—here I am dealing with accounting on multimillion dollar budgets. I never took an HR class; it's all by trial and error. The fact that they have a major dedicated to this is fantastic."
Likewise, Bobbi Brown said she would have majored in BCE had it been available to her as an Emerson student. In fact, she essentially designed her own version of the program.
"I was able to create my own major at Emerson, which was such a gift," Brown said. "But, if I had majored in the BCE program, I probably would have learned a lot of the skills I learned on the job before I had left college."
Jackson said a day rarely goes by when he doesn't learn something from one of his colleagues in the program that he wishes he had known years ago.
When he first arrived at Emerson, he sat in on Assistant Professor Tylor Orme's Cultural Economics class, where they were discussing pricing models at the Museum of Fine Arts, Boston.
"And I was like, 'Man, I wrestled with this for a decade when I was doing the [Brooklyn Hip-Hop] Festival and you mean to tell me I could take this class and figure it out?'" he recalled.
"You could throw a rock on that seventh floor [of the Walker Building] and get somebody who's going to hit you with a gem that's going to change your life—for the students, and for me as well," Jackson said.