Ellie Cypher's path from Berkeley and Beacon to the Massachusetts Supreme Judicial Court 
By Morgan Baker
Photos by Derek Palmer
When Assistant Professor Mike Brown had Elspeth (Ellie) Cypher in class in the late '70s, he didn't know that the comments he wrote at the bottom of her papers—"go to law school"—would result in Cypher becoming a Massachusetts Supreme Judicial Court Judge, appointed by Governor Charlie Baker in 2017.
Justice Cypher '80, H '18, also was unaware of the significance of those words, and she ignored his suggestions. After graduating summa cum laude with a degree in Communications Studies, she went to Kent State to continue her studies in Speech Communication.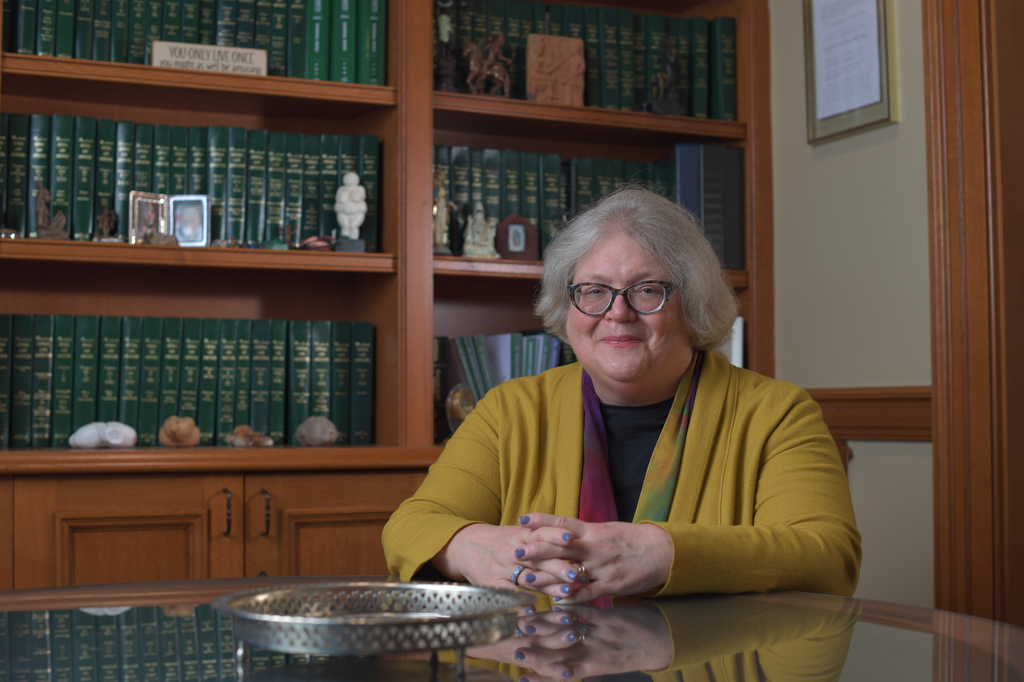 But when she returned to Boston to work and write her thesis, a chance meeting with Brown on the corner of Berkeley and Beacon changed her path. Once again, Brown said, "Go to law school." Cypher was open to the idea this time and planned to save money and go. But Brown wasn't buying it and suggested she work during the day and go to law school in the evening.
"[As a student], Ellie was really, really smart and had no idea what she wanted to do. She was an excellent writer. I saw writing as the most important skill to develop, coming out of college. And she was, in every way, the perfect student," Brown wrote in an email.
Cypher, who had left home at 17 and forged her own path with little support from her family, benefitted from Emerson's courses in argumentation, rhetoric, personal persuasion and group dynamics, but says being part of Emerson's Forensics team honed the speaking and thinking skills that have contributed to her success in the legal world.
Clearly, Brown knew what he was talking about all those years ago. Cypher graduated Suffolk Law cum laude, was named Lawyer of the Year by Massachusetts Lawyers Weekly in 2000, was appointed to the Court of Appeals in 2000, and then became a member of the Massachusetts Supreme Judicial Court (SJC).
In addition to writing well, Cypher says, "One of the things I really learned from Emerson was to listen. A big part of communication is listening, to really pay attention to not just what is being said, but also to the nonverbal cues. And to understand that everybody's coming from their own point of view."
At Emerson, Cypher also learned that communication "is the foundation of freedom…the essence of democracy," as she told Emerson's graduating class in 2018, when she received an honorary degree in recognition of her successful career.
As one of seven judges on the SJC, Cypher says, "a big accomplishment is to make sure that those judicial relationships stay professional, courteous, and collegial…making sure our disagreements don't become personal."
"The challenging part is not being able to say what I would like all the time," she says. "I'm not able to get involved in political or community issues. I have to be very careful about social media. It's a difficult job for somebody who wants to be out and about. It can be a very lonely job."
Regardless of the challenges, Cypher says, "What I love about the law is that it is a system that is animated by the people who believe in it and that it is a system that can change and adapt to changes in society." She adds, "The law is important because it attempts to order
our relationships with each other so that we can live peacefully in a cooperative society."
Not only has Cypher practiced the law as a lawyer and judge, but she has also benefitted from it personally. Five years after the Goodridge case in Massachusetts legalized same sex marriages, Cypher married her long- term partner. "I grew up in an era when you just never expected this was going to become the law," she says.
Cypher and her partner didn't marry right away because they were wary of the marriage archetype. "But, we did get married and I'm grateful we did and I'm very grateful for the opinion," she says.
Cypher has also taken her love of the law into the classroom and taught for many years at the University of Massachusetts School of Law (formerly Southern New England School of Law). In 2019, she received an honorary degree from UMass.
In her commencement speech, she adapted ten lessons for graduates from On Tyranny by Timothy Snyder. "Bear witness even if you can't help somebody directly, or even if somebody is in front of you suffering, and there's nothing you can do; just bearing witness to their pain and acknowledging it goes a long way toward helping somebody," Cypher told the students. "It's important not to look away and it's important to stay awake."
Our society needs law students now more than ever before, she added. "We really need well-trained lawyers, with the stomach and the stamina and the conviction to stand up for the rule of law and to fight for people who don't have access to justice."